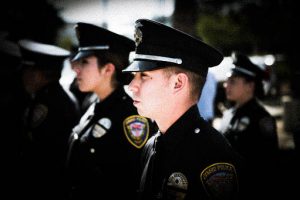 MINIMUM REQUIREMENTS:
·         High school graduate, pass the General Education Development Test indicating high school graduation level, passed the California High School Proficiency Examination, or have attained a two-year, four-year, or advanced degree from an accredited college or university. The high school shall be a United States public school and accredited United States Department of Defense high school, or an accredited or approved public or non-public high school.
·         Must be 21 years of age at the time of application.
·         U.S. citizenship or resident alien who is eligible for and has applied for citizenship.
·         Valid California driver's license or ability to obtain one at the time of hire.
·          No experience required.
·         Excellent physical condition and must meet POST medical standards.
HIGHLY DESIRABLE:
·         Ability to speak Spanish.
·         Ability to speak Vietnamese, Filipino, or Korean and American Sign Language capability.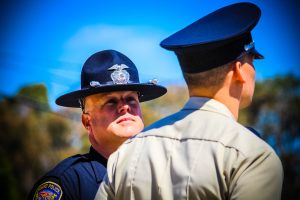 As a trainee, you shall attend a POST certified police academy designed to provide an overview of the criminal justice system, training and various laws and procedures, law-enforcement techniques, first aid, physical fitness and related duties.  Upon successful completion of the police academy, trainees enter the Oxnard Police Department field training program and are assigned to the Patrol Division in a probationary status.
Applications are also accepted for the following:
"Academy Complete" is for those persons who have completed a California Commission on Peace Officer Standards and Training (P.O.S.T.) approved law enforcement academy within the past three (3) years.
"Lateral Police Officer" is for those persons that are currently employed as a law enforcement officer with a municipal, county or state agency within the State of California for a minimum of one year and possess a Basic Certificate from the California Commission on Peace Standards and Training.
Law enforcement officers from outside of California may be eligible for a waiver of attendance to a regular POST academy, but the officer-candidate is responsible for obtaining this waiver on their own.
POTENTIAL DISQUALIFIERS
The Oxnard Police Department has the right and obligation to obtain assurances that all candidates applying for employment at the Police Department (which means any position at the Police Department, not just police officers) meet established standards. The following guidelines are representative of the more common disqualifiers. However, other information of facts revealed during the background investigation may also be sufficient to disqualify a candidate. All information in the personal history statement, which the applicant will complete, will be verified by a polygraph examination.
The guidelines below relate to the actual use of illegal drugs and are not intended to exclude those persons who are not illegally using drugs. Each item is marked, "Will" or "May," which means, "Will Disqualify" and "May Disqualify." These guidelines are subject to change without notice (revised April 2012).
GENERAL
DISQUALIFY?
Not a U.S. Citizen and have not applied for U.S. citizenship within the past year.
WILL
Falsification or deception during the hiring process. Any material misstatement of fact or significant admission during the application or background process, including inconsistent statements made during PHS review or Supplemental Questionnaire or poly exam or discrepancies between the back-ground investigation and other investigations conducted by other law enforcement agencies.
WILL
Any, forgery, alteration, or intentional omission of material fact on an official employment application document or sustained episodes of academic cheating.
WILL
Any history of actions resulting in civil lawsuits against the applicant or his/her employer.
MAY
Other than honorable discharge from the military.
MAY
Missing any scheduled appointment during the process without prior permission.
MAY
Being under current academic dismissal from any college or university where such dismissal is still in effect and was initiated within the past two years prior to the date of application.
MAY
Having been dismissed from any POST certified basic law enforcement academy wherein no demonstrated effort has been made to improve deficient areas, except; successful completion of another POST basic law enforcement academy shall rescind this requirement.
WILL
Having been disciplined by any employer (including military and or any law enforcement training facility) for acts constituting racial, ethnic or sexual harassment or discrimination.
MAY
Involuntarily dismissed for any reason (other than lay-off) from two or more employers as an adult.
WILL
Having held more than seven paid positions with different employers within the past four years, or more than 15 paid positions with different employers in the past 10 years (excluding military & students.)
MAY
Resigning from any paid position without notice except when hostile work environment alleged.
MAY
Having been disciplined by any employer as an adult for fighting in the workplace.
WILL
Personal bankruptcy more than once; having current financial obligations for which legal judgments have not been satisfied; currently having wages garnished; other history of financial instability.
WILL
SUBSTANCE ABUSE
Any adult use or possession of marijuana or hashish within the past 12 months.
WILL
Any adult use or possession of a drug classified as a hallucinogenic within seven years.
WILL
Illegal adult use or possession of a drug not mentioned above (including cocaine) within three years.
WILL
Any illegal adult use or possession of a drug while employed in any law enforcement capacity or military police. These activities as a student enrolled in college accredited courses related to the criminal justice field may result in disqualification.
WILL
Any adult manufacture, cultivation, or sales of a drug or illegal substance (other than marijuana).
WILL
Any adult sales of marijuana.
MAY
Failure to divulge to the Police Department during the background investigation, any information about personal illegal use or possession of drugs.
WILL
Any illegal use or possession of a drug as a juvenile.
MAY
Adult use or possession of a drug not meeting the automatic disqualifiers listed above (e.g., marijuana use longer than one year or cocaine use longer than three years ago.)
MAY
Any drug test of the applicant, during the course of the hiring process, where illegal drugs are detected
WILL
Any illegal or unauthorized use of prescription medications
MAY
CRIMINAL AND TRAFFIC RELATED CONSIDERATIONS
Committed any act amounting to a felony as an adult, within five years prior to application or as a peace officer (including military police officers)
WILL
Conviction of any misdemeanor within three years prior to application.
WILL
Conviction of two or more misdemeanors as an adult.
WILL
Conviction of any misdemeanor while employed as a peace officer (including military police officers)
WILL
Having any outstanding warrant of arrest at time of application.
WILL
Admission(s) of any act of domestic violence as defined by law, committed as an adult.
WILL
Driver in two or more chargeable (at fault) collisions within three years.
WILL
Conviction for DUI within three years or any two convictions.
WILL
Admission(s) of any criminal act against children (including molesting, annoying, abuse, 314.) Con-sensual unlawful intercourse between minors okay, unless more than four years difference in age.
WILL
Any admission(s) of any act of domestic violence as defined by law, committed as an adult
WILL
Three or more moving violations (or any single violation such as reckless driving, speed contest, suspect of a pursuit, etc.) within three years prior to application.
WILL
MEDICAL / PSYCHOLOGICAL
As determined by the City of Oxnard Police Department medical and psychological standards.
WHERE
APPLICABLE
EQUAL OPPORTUNITY EMPLOYER