FINANCIAL CRIME$ UNIT
Investigations and Crime Prevention for:
$$$ Fraud $$$ – forging documents or creating false documents to steal funds
$$$ Identity Theft $$$ – using your Personal Identifying Information to open or use your accounts
$$$ Scams  $$$ – theft of your funds by trickery or false pretenses
$$$ Embezzlement $$$ – ongoing lengthy schemes to steal from employers
More from the Oxnard PD Video Library:
Straight To You on Text Scams (7-28-20)
Email and Text Phishing (5-5-20)
This page is maintained by the Oxnard Police Department Fraud Detective who can be reached via email Erica.Escalante@OxnardPD.org
QUICK LINKS – Table of Contents for this Page
Because SCAMS are so prevalent and frustrating, this page begins and ends with information about the latest scams and prevention tips. (updated 12-7-2020)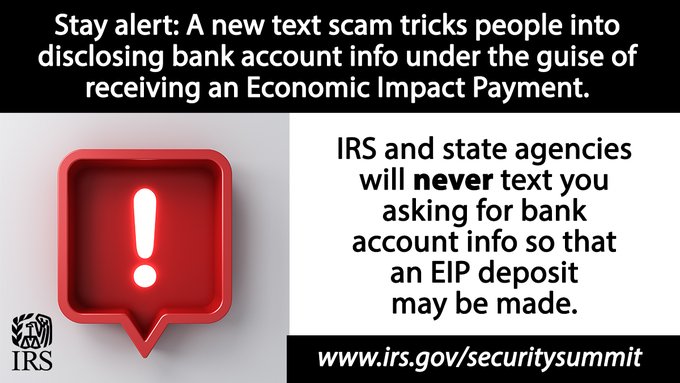 Report scams to the FBI and Federal Trade Commission at FTC Report Fraud

Follow the Quick Links (above) to skip to other sections on this page.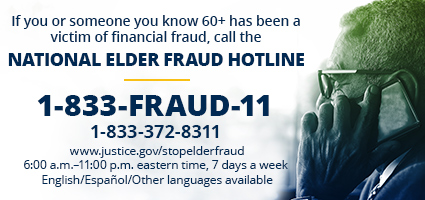 CURRENT SCAM TRENDS: (updated 10-14-20)
In the first six months of 2020, people reported losing a record high of almost $117 million to scams that started on social media. People sent money to online sellers that didn't deliver, to romance scammers, and for phony offers of financial help. (10-21-2020) FTC Report
COVID-19 Contact Tracing – 5 Ways to Avoid Scams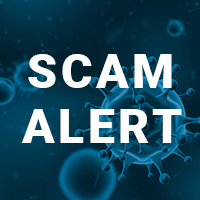 Contact Tracing remains a primary tool in the fight against COVID-19. As individuals test positive, Public Health Officials are notified so they can begin the contact tracing process. The individual who tests positive is contacted and counseled on the next steps, and contact tracers try to determine who the infected individual may have come into close contact with during the timeframe when they may have been contagious. These Public Health representatives then place calls to those close contacts, asking them to self-isolate in hopes of disrupting the transmission of the virus.
As we become more familiar with this process, scammers continue to attempt to take advantage of the situation. The Federal Trade Commission points to 5 Things to Know about how to avoid scammers posing as contact tracers.
– Real contact tracers won't ask for money
– Contact tracing doesn't require your bank account number
– Legitimate contact tracers will never ask for your Social Security Number
– Your immigration status doesn't matter for contact tracing, so real tracers won't ask
– Do not click on a link in a text or email – doing so can download malware onto your device
You are encouraged to report fake contact tracers to your state and at www.ftc.gov/complaint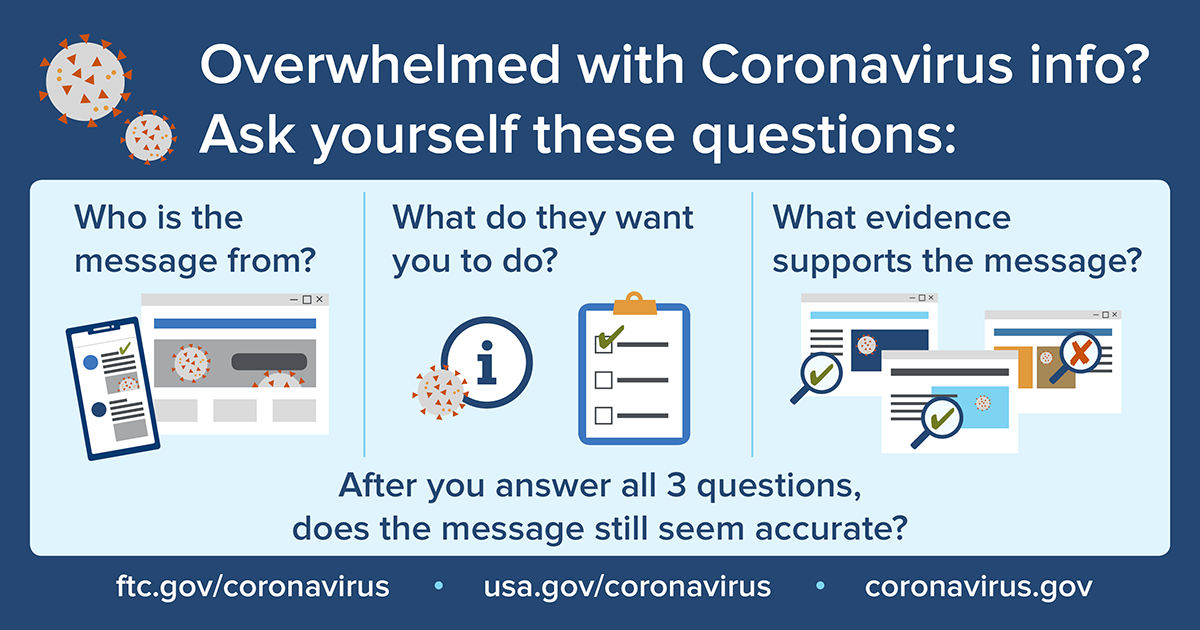 Beware of phishing text messages that appear to be from FedEx, USPS, or any package delivery company.  If you click on the link, you will be directed to a fake prize winning page (Amazon or Walmart) and be asked to enter your credit card number to claim your prize.  This is a scam!  Read More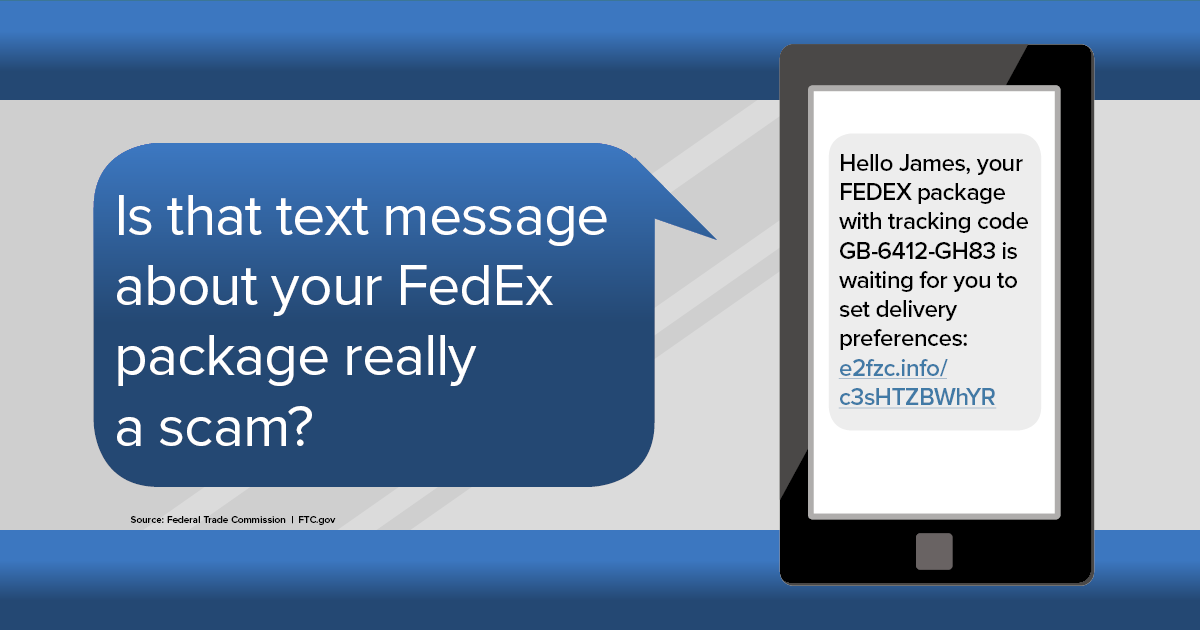 For more information about stopping imposter scams, visit ftc.gov/imposters.
FBI article on Money Mules and Business Email Compromise
(click here)
NEW (1-6-20) Reports of
romance scams

are growing, and costing people a lot of cash. According to 2020 FTC data, the number of romance scams people report to the FTC has nearly tripled since 2015. Even more, the total amount of money people reported losing in 2019 is six times higher than it was five years ago – from $33 million lost to romance scammers in 2015 to $201 million in 2019. People reported losing more money to romance scams in the past two years than to any other fraud reported to the FTC.   (click here for FTC article)

http://romancescamsurvivor.org/ a resource for victims and friends/family of victims of online romance scams.

The Coalition for Family Harmony offering local counseling services in Ventura County to victims of online romance scams & by phone (805)983-6014 x 1120 or 800-300-2181.

Online Romance Scams Definitive Information from the Better Business Bureau – Don't fall victim!

Spoofing phone numbers for Social Security Administration (listen to example)
and IRS (example below)
The real SSA number is 1-800-772-1213, but scammers are putting that number in the caller ID. If you're worried about what the caller says, hang up and call 1-800-772-1213 to speak to the real SSA. Even if the wait time is long, confirm with the real SSA before responding to one of these calls.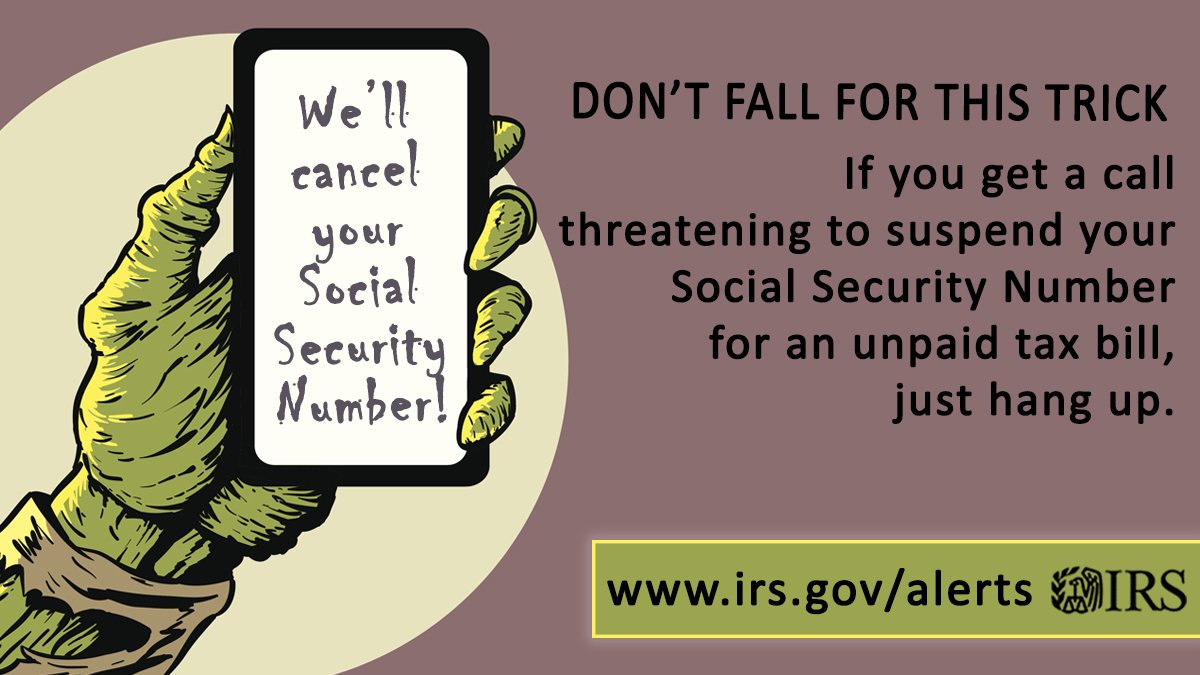 SCAM PREVENTION:  (updated 11-25-19)
Criminals and con artists use many scams to target unsuspecting people who have access to money. Consumer scams happen on the phone, through the mail, e-mail, or over the internet. They can occur in person, at home, or at a business.
Here are some tips to protect yourself from scams:
Don't share numbers or passwords for accounts, credit cards, or
Social Security.
Never pay up front for a promised prize. It's a scam if you are told that you must pay fees or taxes to receive a prize or other financial windfall.
After hearing a sales pitch, take time to compare prices. Ask for information in writing and read it carefully.
Too good to be true? Ask yourself why someone is trying so hard to give you a "great deal. If it sounds too good to be true, it probably is.
Watch out for deals that are only "good today" and that pressure you to act quickly. Walk away from high-pressure sales tactics that don't allow you time to read a contract or get legal advice before signing. Also, don't fall for the sales pitch that says you need to pay immediately, for example by wiring the money or sending it by courier.
Put your number on the National Do Not Call Registry. Go to 

www.donotcall.gov

  or call (888) 382-1222.
Also, see this article from the Consumer Financial Protection Bureau (CFPB) on debt collector scams.
How to tell if real debt collector?
---
---
SCAMS – What are they?  Have you been a victim?
A scam is a theft by trickery.  (Click here for a video example.)  The suspect misrepresented himself as somebody in order to trick you to steal your money.  Avoid scams by verifying before making payment.  Legitimate business deals that don't go the way you expected are not scams, but can be reported to the Better Business Bureau.
Face to face scams – Somebody during personal contact sells you something that does not exist or does a "bait and switch" to trick you and steal your money.  These can be dangerous if the suspect went to you home or drove you to your bank or other locations.  Report to local law enforcement as soon as possible.  * Call 911 if the suspect is still nearby.  * Call (805) 385-7770 (City of Oxnard non-emergency line) if the suspect is gone and the crime occurred in the City of Oxnard.
Mail scams – often sweepstakes winning or false advertisements.  Report to the US Postal Service, FBI, and FTC.
Telephone (landline or cell phone) or online (email, social networking, bulletin board posts) – many varieties usually involving an element of false impersonation.  Report to the FBI and FTC.  Also, notify the hosting web site's security department and block the caller's phone numbers as necessary.
Imposter scams involve someone pretending to be a government official, tech support representative, loved one in trouble, investment company, sweepstakes distributor, or romantic interest, or someone else in order to get consumers to give the scammer money.  Gift cards are attractive to scammers because they provide anonymity and are very difficult to reverse once used.  If someone tells you to pay with a gift card, don't do it.  Gift cards are for gifts, not for payments.
Phishing is when someone uses fake emails or texts to get you to share valuable personal information – like account numbers, Social Security numbers, or your login IDs and passwords. Scammers use your information to steal your money, your identity, or both. They also use phishing emails to get access to your computer or network. If you click on a link, they can install ransomware or other programs that can lock you out of your data.  Scammers often use familiar company names, such as your bank or service provider, or pretend to be someone you know.
Tech Support Scams unsolicited notification via telephone, email or pop-up on your computer that your computer is infected with a virus or malware.  (updated 3-11-2019)
If you're looking for tech support, go to a company you know and trust, or get help from a knowledgeable friend or family member. If you search online for help, search on the company name plus "scam," "review," or "complaint."
If you get a phone call you didn't expect from someone who says there's a problem with your computer, hang up.
Never call a number in a pop-up that warns you of computer problems. Real security warnings will never ask you to call a phone number.
If you think there's a problem with your computer, update its security software and run a scan.
Work from Home Scams – Take care when looking for a job online.
Don't send money to someone who says they want to hire you. Don't deposit a check and wire money back. Don't send them a gift card or cash reload card.
Search online for a potential client's name, email address, and phone number. You might find complaints by others who've been scammed and find out more about the scammer's tricks.
If you sent money to a scammer posing as an employer, contact the company you used to send the money (bank, wire transfer service, gift card company, or cash reload card company) and tell them it was a fraudulent transaction. Ask to have the transaction reversed if possible.
Report job scams to the job site and to FTC.gov/complaint.
The bottom-line on
fake check scams

:  If someone you don't know sends you a check and asks for money back, that's a scam.  Fake checks drive many types of scams.  A new update from the Federal Trade Commission shows that fake check scams led to reported individual median losses of nearly $2,000 – losses far higher than on any other of the top ten scams reported to the FTC. According to the new data analysis, consumers in their 20's are more than twice as likely as people 30 and older to report losing money to these scams. (2-12-20)
If you have been a victim of an online, mail, or phone SCAM – REPORT to the FTC and FBI.  There is no need to report to local authorities such as Oxnard Police Department unless you need a report for tax deduction, insurance, or banking purposes for documentation only.
The Federal Trade Commission (FTC) works to promote competition, and protect and educate consumers. You can learn more about consumer topics and file a consumer complaint online or by calling 1-877-FTC-HELP (382-4357). Like the FTC on Facebook, follow us on Twitter, read our blogs, and subscribe to press releases for the latest FTC news and resources.
FBI IC3 to report to the FBI Internet Crime Complaint Center – conducts criminal investigations.
FBI warning – online auto sales scams  Don't fall victim to online vehicle sales scams!
Tech Support Scam FBI article – Don't fall victim to tech support scams!
USPIS to report mail fraud and mail theft the US Postal Inspectors Service.
IRS to report IRS tax impersonation scams.

---
To VERIFY businesses and other information:
CA DBO the California Department of Business Oversight – licensing of all financial institutions, money transmitters, investment bankers, and financial planners.
CA DRE the California Bureau of Real Estate – licensing of all realtors.

CSLB the California Contractors State Licensing Board.
---
To report Real Estate Fraud, report to the Ventura County District Attorney's Office:  Report Forms
BEWARE: theft of your down payment via Business Email Compromise  (updated 10-31-2018)
How to Spot a Rental Scam:  Scammers use a variety of tactics to get people's money. Some hijack a real rental listing by changing the email address or other contact information and then placing the altered ad on another site. Others gain access to keys in lock boxes, make copies, and pose as legitimate rental agents. Still others may list a property that's already leased and then try to collect application fees, security deposits, and even the first month's rent.
How Rental Scams Work (added 8-19-2019)
Scammers know that finding the right apartment or vacation rental can be hard work, and a seemingly good deal is hard to pass up. They've been known to game some vacation rental websites and bulletin boards. The take-away: when you're looking for a rental, it's caveat renter — renter beware.
Hijacked Ads
Some scammers hijack a real rental or real estate listing by changing the email address or other contact information, and placing the modified ad on another site. The altered ad may even use the name of the person who posted the original ad. In other cases, scammers have hijacked the email accounts of property owners on reputable vacation rental websites.
Phantom Rentals
Other rip-off artists make up listings for places that aren't for rent or don't exist, and try to lure you in with the promise of low rent, or great amenities. Their goal is to get your money before you find out.
Signs of a Scam
Being savvy when you're in search of a rental is well worth the effort. Here are some signs you may be dealing with a scam:
They tell you to wire money
This is the surest sign of a scam. There's never a good reason to wire money to pay a security deposit, application fee, first month's rent, or vacation rental fee. That's true even if they send you a contract first. Wiring money is the same as sending cash — once you send it, you have no way to get it back.
They want a security deposit or first month's rent before you've met or signed a lease
It's never a good idea to send money to someone you've never met in person for an apartment you haven't seen. If you can't visit an apartment or house yourself, ask someone you trust to go and confirm that it's for rent, and that it is what was advertised. In addition to setting up a meeting, do a search on the owner and listing. If you find the same ad listed under a different name, that's a clue it may be a scam.
They say they're out of the country
But they have a plan to get the keys into your hands. It might involve a lawyer or an "agent" working on their behalf. Some scammers even create fake keys. Don't send money to them overseas. If you can't meet in person, see the apartment, or sign a lease before you pay, keep looking. What if the rental itself is overseas? Paying with a credit card or through a reputable vacation rental website with its own payment system are your safest bets.
Tips to help you avoid rental scams:  (updated 6-12-19)
Do an online search of the rental company. Enter its name plus words like "review," "complaint" or "scam." If you find bad reviews, you may want to look elsewhere.
Do an online search of the address. Rental home listings may appear in several places, including rental company websites and online listing services like like Zillow, Trulia or Craigslist. If you see a rental company's listing on one of those online listing services, do a search of the home's address to make sure it appears on the rental company's website. If it doesn't, it may be a scam.
Compare prices. Is the rent a lot less than comparable rentals? That could be a red flag.
Take a tour. Ask for identification. Rental agents should have photo ID badges issued by the company that owns or manages the property.  Never pay deposit money until you've seen the property inside and outside AND signed a lease – verify all names on the lease before making payment.
Nothing sketchy yet? Apply through the rental company, licensed real estate professional or listings website.  THEY MUST BE LICENSED to take your application.
Before you sign a lease, look for signs at the rental with the name of the property owner or manager. Call that company before making a deal with anyone.  Beware – some scammers even send keys.
Never pay with cash, wire transfers or gift cards. If anyone tells you to pay this way, it's a sure sign of a scam. Wiring money is like sending cash — once you send it, you have no way to get it back. As for gift cards, they're for gifts, NOT for payments.
If you have been a victim, report to the Ventura County DA's Office and FTC.
Additional Real Estate Fraud Resources:  REFAT

General prevention/information sites:
FBI IC3 the FBI Internet Crime Complaint Center.
FTC the Federal Trade Commission.
IAFCI the International Association of Financial Crimes Investigators.
USSS the Secret Service US Currency information site – how to recognize counterfeit cash.
VCAAA the Ventura County Area Agency on Aging for Medicare fraud and older adult services & by phone (805)477-7300.
Smart Money the FDIC smart money programs.
ID Theft Center a non-profit victim advocacy group.

Fraud of the Day learn about current fraud and scam trends.
---
3 Credit Bureaus:
Data Breach to enroll in the Equifax data breach program.
TransUnion

https://www.annualcreditreport.com/ for free annual credit report.
Fraud alerts & credit freezes: What's the difference?
---
ID Theft PREVENTION – Don't be an easy target!
Everybody should take constant steps to prevent identity theft.  Data breaches occur every day, and international criminals steal Personal Identifying Information to use it for a wide variety of criminal enterprises.  It is best to assume that your Information has already been compromised, and be vigilant by taking every precaution available.  Credit reporting services are available at no cost through several organizations.  Do the research and find a solution that works best for you.  Below are recommended monthly habits:
 

Check credit reports for new activity.

  There are free options available including apps for smart phones.  Set alerts if available to receive email and/or text message alerts. 

Lock or freeze your credit every year NOW for FREE by all 3 credit reporting bureaus are:  TransUnion, Equifax, and Experian

. (updated September 21, 2018)
Check your existing accounts at all of your financial institutions for banking services including checking, savings, and credit accounts.  Check your account activity for anything you did not approve.  Activate any available security alerts and set thresholds that work for your needs.  Notify your banks whenever you travel.  Limit the use of your accounts to specific activities such as one credit card for online transactions, and select credit cards to be used when travelling.  Always establish online accounts, even if you don't intent to use online banking, so that there is no open door for criminals to access your account.
Keep Personal Identifying documents in a locked location inside your home.  Such documents include passports, Social Security cards, credit cards that you don't regularly use, check books, vehicle and property titles to name a few examples.  The box could be small enough to retrieve in the event of fire.  Consider a box that can be hidden and secured to immobile objects so as not to be stolen during a home burglary.
Avoid using unsecured mailing services.  Avoid mailing or receiving checks and banking information in the mail.  Consider locations with enhanced security features and live or video monitoring.  Never leave any Personal Identifying Information unsecured in your car.  Mail theft and thefts from vehicles are common practices among identity thieves.
Use caution online.  International criminals have exploited the Internet to disguise malware and viruses in everything from email messages to advertisements to news articles.  Use an encrypted program to store your bank account information, passwords, and security answers.  Make your security answers nonsensical such as lyrics to songs that are not featured on your social networking profiles.  Backup your data in the event of a ransomware attack or false IT service scam.  If a scammer begins to communicate with you online in real time, shut down your system as soon as possible. Wait a few hours before trying to power on offline to clean your system of malware and viruses.  Regularly update your anti-virus and operating system software.  Be cautious in what information you share on social networking sites and check privacy settings on a regular basis.  Never share Personal Identifying Information with or send funds to anybody you haven't met in person or verified through your own offline research.
Before inserting or swiping your credit/debit card, check for security.  Tug on card readers to make sure a skimming device overlay is not installed, especially at gas pumps.  All keypad and card slots should be smooth and in good repair.  A jammed ATM or posted repair sign can indicate that the working one has been targeted by criminals.  Criminals install overlays, skimmers, and pinhole cameras to steal your magnetic stripe information and PIN.  Report any irregularities to the bank or merchant immediately.  Non-bank ATM's such as those inside convenience stores generally don't have video cameras installed.
---
I receive many questions about bank accounts and whether to change banks after an identity theft incident.  This article from CFBP is helpful.  (11-25-19)
If you see mistakes in your credit report, contact the credit bureau and the company that provided the information. Ask both to correct their records. Include as much detail as possible, plus copies of supporting documents, like payment records or court documents.
When contacting the credit bureau, the process depends on whether you're an identity theft victim:
If the errors are not related to identity theft: Tell the credit bureau (by mail or online) what information you think is inaccurate. By mail, you can use our sample dispute letters. Online, use the dispute portals for each credit bureau (Equifax, Experian, Transunion) that listed the inaccuracy. The credit bureau must investigate your claim and make any necessary updates to your information within 30 days. The bureau also must contact the company that provided the information. If the company finds the information was inaccurate, they must notify all three credit bureaus to correct your file.

DO NOT FILE A POLICE REPORT!

If the errors are due to identity theft

: You can block identity theft-related debts from appearing on your credit report. Visit IdentityTheft.gov to learn the steps and to get an

Identity Theft Report from a police department

to send to the credit bureaus. Remember that you can use Identity Theft Reports only for debts that are the result of identity theft.

Filing an Identity Theft Report to block debts that you owe is against the law.
If you're considering paying a credit repair organization to help fix your credit, keep in mind that anything they can do for you legally, you can do for yourself at little or no cost. Credit repair organizations can NOT legally remove accurate negative information from your credit report.
If you hire a credit repair organization, don't do business with one that:
Insists you pay before it helps you (that's illegal)
Tells you not to contact the credit bureaus directly
Disputes information in your credit report you believe is accurate
Continue learning more below.  There are links to a variety of resources that can help you avoid becoming a victim or recover your identity in the event that you already know that you have been victimized.  Check these sites on a regular basis as improvements are continuously made by the many agencies working to prevent these crimes.
If you know that you have been victimized for Identity Theft crimes:
Identity Theft Steps the Federal Trade Commission's comprehensive ID theft recovery kit.
Consumer Financial Protection Bureau to report complaints about your bank's response to your problems.

Send an email to California DMV (dlfraud@dmv.ca.gov) if your CDL or ID card were fraudulently used.
---
If you have already made a Police Report with the Oxnard Police Department:
Reported Crime
Document
Instructions
Fraudulent use of your own existing account(s):
484g form
Complete the form.  Attach color image of your photo ID and Social Security card.  Attach copy of police report.  Mail/fax/email to your bank/creditor.
Opening new fraudulent accounts using your Personal Identifying Information:
530-8 form
Complete the form.  Attach color image of your photo ID and Social Security card.  Attach copy of police report.  Mail/fax/email to your bank/creditor.
Using your Social Security Number to work or receive benefits:
F14039_IRSform
(Englsh) Complete the form.  Attach color image of your photo ID and Social Security card.  Attach copy of police report.   Send the form to the IRS.
F14039_IRSform
(Spanish) Complete the form.  Attach color image of your photo ID and Social Security card.  Attach copy of police report.   Send the form to the IRS.
 
CA FTB form
Complete the form.  Attach color image of your photo ID and Social Security card.  Attach copy of police report.  Send the form to the CA FTB.
Printable Resource Sheets – Identity Theft
(Patrol) Fraud Info Handout To Public 2017
English
Printable Resource Sheets – Identity Theft
(Patrol) Fraud Info Handout To Public (SP) 2017
Spanish
Printable Resource Sheets – Scams
Scam Prevention Handout to Public
English
Email questions and supporting documents – MUST include your Report Number to Detective Erica.Escalante@OxnardPD.org.

---
If your Social Security Number has been used to work or claim benefits: 
(There is no need to report to local authorities unless you need a report for tax deduction, insurance, or banking purposes for documentation only.)
IRS Identity Theft Affidavit Form complete the IRS identity theft affidavit and submit online to IdentityTheft.gov FTC website.
SSA "my account" to review your Social Security account and report identity theft.
CA Franchise Tax Board to report to the California Franchise Tax Board.
EDD to report to the California Employment Development Department.

---
Resources for Businesses:
Cal ORCA the California Organized Retail Crimes Association.
Smart Money the FDIC smart money program for small businesses.
How To Recognize Counterfeit Bill$
Report Non-Sufficient Fund (NSF) Checks to the Ventura County District Attorney's Office:  Report Forms.
FBI article on data breach requirements How to report data breach to FBI & IRS.


EMPOWER YOURSELF AGAINST UTILITY SCAMS
You get a call saying your electricity or water will be shut off unless you pay a past due bill. You may not think you have a past due bill. But the caller sounds convincing, and you can't afford to ignore it, especially if you're running a small business.
Actually, you can't afford to believe it.
The FTC has been hearing about scammers impersonating utility companies in an effort to get your money. Here are some warning signs of a utility scam:
If you know you already paid, stop. Even if the caller insists you have a past due bill. That's a big red flag.
Never give out your banking information by email or phone.Utility companies don't demand banking information by email or phone. And they won't force you to pay by phone as your onlyoption.
Did the caller demand payment by gift card, cash reload card, wiring money or cryptocurrency? Don't do it. Legitimate companies don't demand one specific method of payment. And they don't generally accept gift cards (like iTunes or Amazon), cash reload cards (like MoneyPak, Vanilla, or Reloadit), or cryptocurrency (like bitcoin).
If you get a call like this, here are some things you can do:
Concerned that your bill is past due? Contact the utility company directly using the number on your paper bill or on the company's website. Don't call any number the caller gave you.
Never give banking information over the phone unless you place the call to a number you know is legitimate.
Tell the FTC. Your reports help us fight these scams. And report it to the real utility company. If you already paid, tell the payment provider – such as the wire transfer or gift card company. You may not get your money back, but it's important to tell them about the scam.
---
Additional Educational Resources:
Consumers who are concerned about identity theft or data breaches can
freeze their credit and place one-year fraud alerts for free.
Under the new Economic Growth, Regulatory Relief, and Consumer Protection Act, consumers in some states – those who previously had to pay fees to freeze their credit – will no longer have to do so.
A credit freeze, also known as a security freeze, restricts access to a consumer's credit file, making it harder for identity thieves to open new accounts in the consumer's name. The new law also allows parents to freeze for free the credit of their children who are under 16, while guardians, conservators, and those with a valid power of attorney can get a free freeze for their dependents.
In addition, the new law extends the duration of a fraud alert on a consumer's credit report from 90 days to one year. A fraud alert requires businesses that check a consumer's credit to get the consumer's approval before opening a new account.
As part of its work to implement the new law, the Federal Trade Commission has updated its IdentityTheft.gov website with credit bureau contact information, making it easier for consumers to take advantage of the new provisions outlined in the law.
To place a credit freeze on their accounts, consumers will need to contact all three nationwide credit bureaus: Equifax, Experian, and TransUnion. Whether consumers ask for a freeze online or by phone, the credit bureau must put the freeze in place within one business day. When consumers request to lift the freeze by phone or online, the credit bureaus must take that action within one hour. (If consumers make these requests by mail, the agency must place or lift the freeze within three business days.)
To place a fraud alert, consumers need only contact one of the three credit bureaus, which will notify the other two bureaus.
Credit freezes and fraud alerts are two important steps consumers can take to help prevent identity theft. Identity theft was the second biggest category of consumer complaints reported to the FTC in 2017 — making up nearly 14 percent of all the consumer complaints filed last year. Consumers who believe they have been the victim of identity theft can report it and receive a personalized recovery plan at IdentityTheft.gov.
Help for financial caregivers
But what about people who can't manage their finances on their own? The new law lets people with certain legal authority act on someone else's behalf to freeze and unfreeze their credit file. The new law defines a "protected consumer" as an incapacitated person, someone with an appointed guardian or conservator, or a child under the age of 16.
If you're acting on behalf of a protected consumer, you must give the credit reporting agencies proof of authority before you can freeze and unfreeze the protected consumer's credit. Proof of authority includes:
A court order (such as an order naming you guardian or conservator), or
A valid power of attorney.
To freeze or unfreeze the credit file of a child under 16, you must provide other proof of authority.
You'll also need to provide proof of your identity, which can be your Social Security card, your birth certificate, or your driver's license or other government issued identification.
FTC Alerts to receive email alerts of current scam trends.
Example below:
Anatomy of a Fake Check Scam
September 5, 2018 by Colleen Tressler, Consumer Education Specialist, FTC
Fake checks drive many types of scams – like those involving phony prize wins, fake jobs, mystery shoppers, online classified ad sales, and others. In a fake check scam, a person you don't know asks you to deposit a check – sometimes for several thousand dollars and usually for more than what you are owed – and wire some of the money back to that person. The scammers always have a good story to explain the overpayment – they're stuck out of the country, they need you to cover taxes or fees, you need to buy supplies, or something else. But by the time your bank discovers you've deposited a bad check, the scammer already has the money you sent, and you're stuck paying the rest of the check back to the bank.
The Federal Trade Commission receives tens of thousands of reports each year about fake checks. Over the last three years, the number of complaints has steadily increased, and so have the dollars lost.
The FTC's new infographic, developed with the American Bankers Association Foundation, offers some tip-offs to rip-offs and what to do if you get a check from someone you don't know.
Please share this information with others. Victims may be embarrassed to talk about their experiences, but you can help. A simple phone call, email or text, saying "Look what I just found" and sharing this information may make a difference in someone else's life.
Want to avoid the latest rip-offs? Sign up for free consumer alerts from the FTC at ftc.gov/subscribe.

2017 FBI scam statistics IC3 Says Victim Losses Exceeded $1.4 Billion in 2017.
Sweepstakes Scam article by the Better Business Bureau.
Legal Basics- Protecting Yourself Against Scams 2018 FTC resource guide.
Protecting Yourself Against Scams Presentation 2018 FTC PowerPoint presentation.
Protect Elders from Financial Abuse AARP article describing several elder financial abuse scenarios.