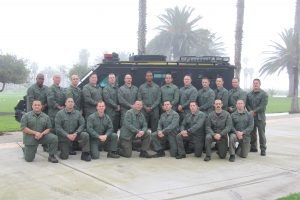 Special Enforcement Unit/Special Weapons and Tactics Team provide
Proactive gang enforcement and providing an advanced tactical element for the Department continue to be the two primary missions of the 20-officer Special Enforcement Unit (SEU). An SEU squad is on-duty seven days a week, focused on addressing persons most likely to commit or encourage others to engage in violent assaults as well as providing tactical assistance on high-risk patrol calls for service. The SEU also serves as the tactical component of the Special Weapons and Tactics Team (SWAT), which includes the collaterally assigned seven-member Hostage Negotiations Team (HNT). The purpose of SWAT is to provide specialized support in handling critical field operations where intense negotiations and special tactical deployment methods are required. This is accomplished with a coordinated effort attained through control and discipline with the goal of successful crisis resolution. In order to attain the required level of proficiency, the in-service training regimen for SWAT is intense.
In 2018, SEU made 334 arrests, completed 848 field interview cards, and conducted 171 probation/parole searches. During the course of their proactive gang enforcement, SEU recovered 44 firearms from subjects they contacted. SEU also served 24 moderate and high-risk search warrants in the city of Oxnard and neighboring communities. The ability for the Department to have an on-duty tactical element seven days a week allows critical incidents to be addressed in a swift manner without the need for an off-duty call-out of major resources. In 2018, the SEU provided 150 tactical assists to the patrol division on high-risk or critical incidents.
SEU also provides training to officers within the Department on a variety of topics including crowd control, mobile field force, active shooter response, building clearing techniques, control devices (Pepper Projectile Systems, Electronic Control Devices, Kinetic Energy Projectiles), and tactical decision making under stress.