The Traffic Unit consists of a unit commander, a sergeant, two senior police officers, ten motor officers, fifteen traffic service assistants, and thirteen school crossing guards. The Traffic Unit is focused on educating the public on traffic laws and uses education, engineering, and enforcement to focus on traffic safety within the City of Oxnard. This includes enforcing traffic laws, parking enforcement, investigating serious injury and fatal traffic collisions, hit and run collisions, and the deployment of school crossing guards.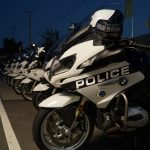 The Traffic Unit is focused on reducing the number of traffic collisions. Educating the public on the primary causes of many collisions is very important and plays a large role in reducing collisions on our roadways. Traffic officers educate the public by explaining violations to drivers and reminding them of the rules of the road, and when and where it applies. Other efforts include deploying traffic message trailers, warning drivers of hazards and/or possible traffic delays, posting information on the Department's Facebook page, working with schools, community groups, and local businesses. You can also checkout traffic safety messages from members of the Traffic Unit by going to the Department's YouTube and Facebook page!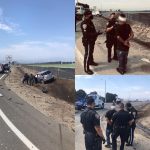 The Traffic Unit investigates and/or reviews all traffic collisions including all hit and run, serious injury, and fatal collisions.  In 2019, the Traffic Unit investigated 16 fatal collisions. A review of the fatal collisions  revealed that seven (7) involved pedestrians, five (5) involved bicyclists, and seven (7) involved drugs and/or alcohol.
In 2019, the Oxnard Police Traffic Unit conducted 14 Sobriety/Driver's License checkpoints. These checkpoints screened 9,362 drivers who passed through the checkpoint and conducted 35 DUI saturation patrols. Checkpoints are highly publicized for maximum public awareness by sending news releases before and after DUI checkpoints. With the increased use of social media, the presence of DUI checkpoints is reaching many more people. The purpose of a DUI Checkpoint is not to arrest impaired drivers as many people think; the purpose is to deter people from driving while impaired. Drivers screened during DUI checkpoints are given flyers with educational information on the consequences and the cost of driving under the influence. The majority of the checkpoints are moved to multiple locations during the same night, which allows for much higher visibility and awareness. The Traffic Unit also conducted 15 pedestrian and bicycle safety operations, and provided 22 traffic safety presentations to the community.
Traffic Service Assistants (TSA's) are an invaluable part of the Traffic Unit. Their dedication and hard work bring safety and compliance. TSA's help keep the streets clean by enforcing street sweeping laws and free from illegally parked vehicles, abandoned vehicles and ensuring the quality of life for our community. TSA's wrote 26,256 parking citations. They also assisted on multiple special events such as DUI checkpoints, parades, triathlons, 4th of July event, the California Strawberry Festival, and other community events.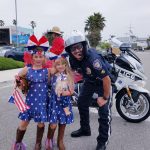 TSA's also play a big role in school safety by performing school crossing guard duties when civilian school crossing guards are not able to cover their shift. Senior TSA's lead the school crossing guard program and manage the hours, training and locations of the school crossing guards to ensure the children of Oxnard are safe as they make their way to and from school each day.
Senior TSA's also provide school crossing guard training to school personnel who want to help out by participating as a school crossing guard at a particular school. Training consists of a four-hour block of instruction which includes a power point presentation, rules, laws, attire and a hands-on practical in the field which shows how to perform the job of a school crossing guard correctly and safely.
Oxnard traffic officers issued 10,762 citations in 2019 which comprises 52% of all traffic citations issued by the Department.