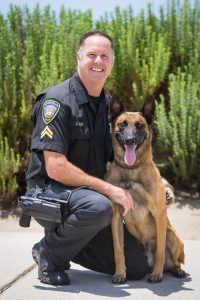 Senior Officer Daniel Casson joined the Oxnard Police Department in 1995. His past experience with the Oxnard Police Department includes working as a Graffiti Detective, a Beat Coordinator and as a member of the bike team.
He began his K-9 career in 1998 with his first Police Service Dog, "Levi", a Belgian Malinois. After 8 ½ years, "Levi" retired and Casson was then paired with "Rico", another Belgian Malinois.
In 2009, Casson was promoted to Senior Officer and was assigned to Beat 32 as the beat coordinator. From 2013-18, Senior Officer Casson was partnered with K-9 "Jax." Unfortunately, "Jax" passed away on January 18, 2019 from health complications. His current partner is K-9 "Capone." "Capone" is a 4 year old Belgain Malinois from France.
Senior Officer Casson is also the President of the Oxnard Community K-9 Foundation. This nonprofit organization works to raise money for the support of the K-9 Unit and its Police Service Dogs.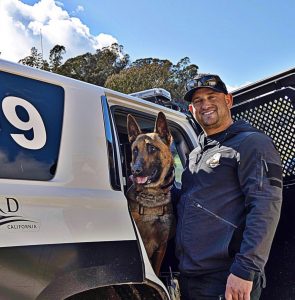 Officer Rob Caston has been with the Oxnard Police Department since 2004 and during his time with OPD, he has been a Field Training Officer and Assistant Reserve Coordinator. Caston spent 8 years as a member of the Defensive Tactics Unit. He also has a Bachelor of Arts degree from the University of New Mexico.
Officer Caston joined the K9 unit in October of 2010 and worked with Police Service Dog "Koa" since April 2013. "Koa" retired in January of 2019 and is enjoying retired life at home with the Caston family. Officer Caston's new partner is K-9 "Rocky" who is a 18 month old Belgian Malinois from Belgium.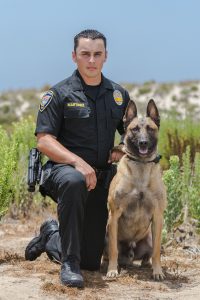 Officer Moses Martinez joined the Oxnard Police Department in February 2007 after serving two enlistments in the United States Marine Corps. Officer Martinez' experience at the department includes Patrol, Field Training Officer and SWAT/SEU.  Officer Martinez was selected as the departments newest Canine Handler in April of 2016 and is partnered with PSD "Leo". "Leo" is a five-year-old Belgian Malinois that was imported from the Netherlands and he is cross trained in patrol and narcotic detection.