Central Business District – 444 S. A St.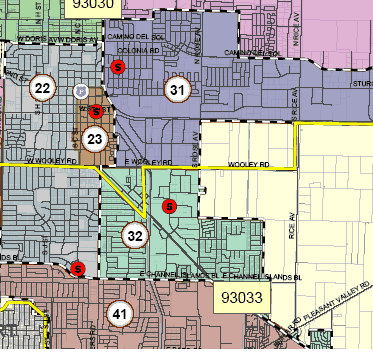 Beat 23 consists of the greater downtown area of Oxnard, also known as the Central Business District (CBD). Beat 23 generally includes the area from Wooley Rd. north to Second St. and from C St. east to the railroad tracks. The CBD is staffed by eight patrol officers, one senior police officer and one district sergeant who patrol the beat by a variety of means including police cars, motorcycles, bicycles, foot patrols and even electric carts.
In recent years, commercial development and private investment have brought a renewed energy and revitalization to the Downtown leading to a transformation of the CBD as it grows into an inviting, interesting and desirable destination. Millions of dollars have been invested into downtown improvements and beautification. To ensure the CBD continues to be a safe and inviting place for all who live, work, or visit, police officers work closely and proactively with residents, merchants, community groups, the Oxnard Downtown Management District (ODMD), and private District Safety Officers, all of which allow Beat 23-geographically the smallest beat in the city-to enjoy an exceptionally low incidence of crime and an improved quality of life.