Downtown – 444 S. A St22 .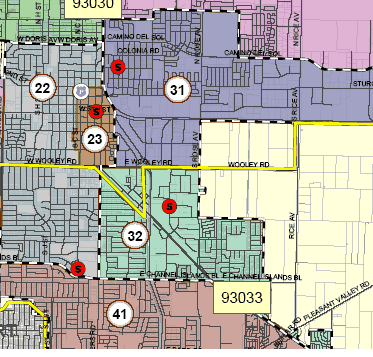 Beat 22 is geographically located in the central portion of the City of Oxnard and encompasses the area from Channel Islands Blvd. north to Doris Ave., and Ventura Rd. east to "C" Street. The overwhelming majority of the beat consists of residential neighborhoods. The Centerpoint Mall at Channel Islands and Saviers Road and Westside Plaza at Fifth Street and Ventura Road anchor the opposing corners of the beat as several clusters of retail establishments comprise the remaining commercial portion of the beat.
The Oxnard Police Department has developed and implemented a neighborhood policing strategy that utilizes a full-time sergeant, a senior police officer, two police officers, one community safety officer, and one traffic officer to develop and maintain partnerships with the Beat 22 community. Neighborhood policing objectives are to lessen crime, reduce the incidence of high-frequency collision locations and enhance the quality of life within the community. Beat 22 remains the largest beat within the city; the partnership with local community members, private organizations, and other city departments have contributed to a decrease in crime and an improved quality of life for the residents. The Oxnard Police Department continues to strive and provide the residents of Oxnard with exemplary policing and customer service.