Beat 21 Community Storefront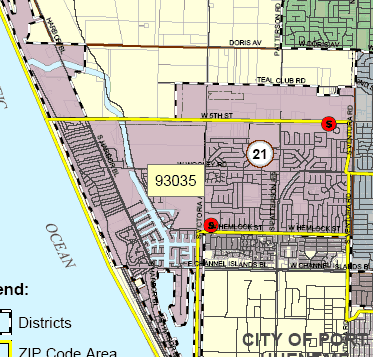 Beat 21 is Oxnard's beachfront community which encompasses the areas of Ventura Rd. west to the ocean from Channel Islands Road to Gonzales Road. This area is staffed by a beat team consisting of one sergeant, one senior police officer, one police officer, one community service officer, and one traffic officer. Other officers assigned to patrol work the area around-the-clock.
The team utilizes police cars, bicycles, motorcycles and an ATV to meet the service needs of the community. Numerous neighborhood councils are active within the beat. The partnerships between the police and community in Beat 21 serve as a model for other neighborhood councils throughout the City of Oxnard. The beat teams' partnership with the community continues to nurture prosperous neighborhoods by cooperatively identifying concerns, addressing problems and enhancing the quality of life.
Beat 21 is experiencing tremendous growth in residential and retail development. The redevelopment and new construction in the beat offers a variety of entertainment, dining and shopping establishments that are patronized by residents and visitors alike. The beauty of Oxnard's gateway to the Channel Islands is greatly enhanced by the cooperative efforts of the community and the beat team to maintain safe and prosperous neighborhoods.