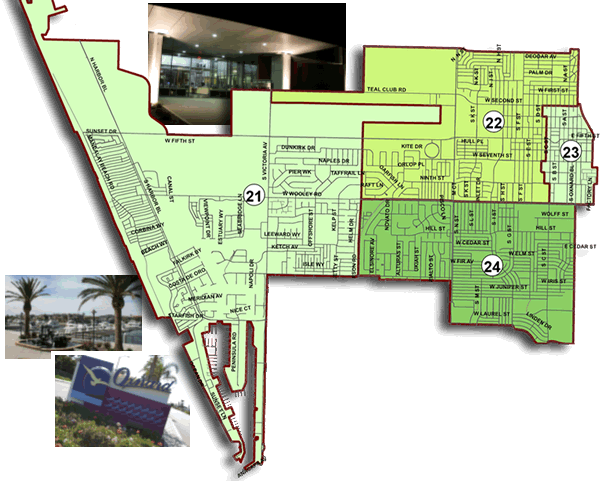 West District Commander
Commander Kevin Baysinger
805.797.5774
West District Sergeant 
Sergeant Jeff McGreevy
805.797.8021
West District Coordinator     
Senior Officer Mike Kohr
805.432.8372
Central Business District Coordinator
Senior Officer Jamie Brown
805.7976233
Homeless Liaison Officer Unit
Sergeant Steve Trickle
805.797.5890
Senior Officer Steven Ramirez
805.857.5227
THE DISTRICT
The West District Team services the west side of Oxnard and consists of Beats 21, 22, 24, and the Central Business District (Beat 23).  The team is responsible for monitoring of crime, quality of life issues, and the forming of community partnerships with residents, clergy, schools, neighborhood councils and watch groups, as well as the owners and managers of properties and businesses.  This is one of the four teams that make up the Neighborhood Policing Team (NPT).
The west district consists primarily of residential neighborhoods with two moderately sized shopping centers and several smaller strip malls with retail businesses.  There are multiple high density residential complexes throughout the district several parks.  Towards the west, there is a beachfront motel, along with a waterfront area, residential keys, and a harbor.  An airport also exists within the district.
The Central Business District is an approximately 35 square block area in Downtown Oxnard.  Several businesses exist with these boundaries, including Centennial Plaza, Plaza Park, and a large parking structure.  Several City facilities and buildings are also home to the CBD, including City Hall, City staff offices, the Oxnard Public Library, the City Service Center, and the Police Department.  Along with those officers assigned to the CBD, the area is also patrolled by a private security operator.
The CBD is also the base of operations for the department's Homeless Liaison Officer (HLO) unit.  Created to help address the growing problems of homelessness and vagrancy in the City of Oxnard, the HLO unit was designed to serve as the department's point of contact concerning homelessness issues, and to act as a liaison between various agencies and service providers.  As a result, the HLO's work closely with other local agencies, businesses, churches, and other organizations, including the City's Housing Department and Homeless Services.  In addition to working with service providers, the HLO's take an enforcement approach as necessary, generally when dealing with vagrancy issues.