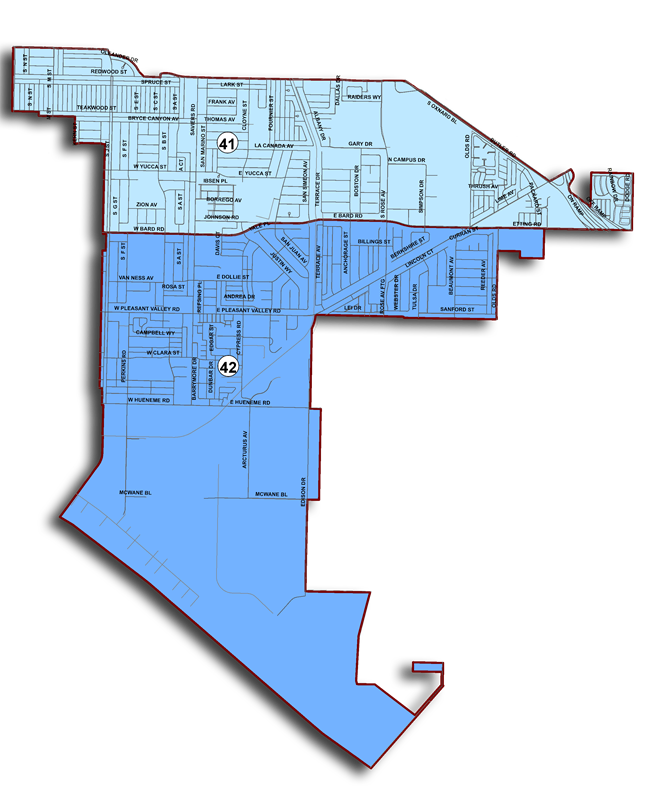 South District Commander                                           
Commander Robin Whitney                                        
South District Sergeant
Sergeant Jeff McGreevy
(805) 797-8021
South District Coordinator
Senior Officer Jose Silva
(805) 986-2065
The South District Team serves the South Oxnard community, which includes the area south of Channel Islands Blvd.  The team is responsible for monitoring crime statistics, addressing quality of life issues, and forming community partnerships with residents, clergy, schools, neighborhood councils/watch groups, owners / managers of properties and businesses. 
Enforcement tactics include "hot spot" patrols, directed patrols, bike patrols, saturation patrols, parole/probation sweeps, undercover operations, theft operations, and alcohol compliance operations.
The South District Team is responsible for addressing quality of life issues that arise within the district. The district team utilizes different methods in identifying and solving issues that affect the quality of life. The two main models utilized are Crime Prevention through Environmental Design (CPTED) and the SARA model. CPTED concepts are utilized to identify factors in an environment that may be contributing to crime and quality of life issues at a particular location.  SARA is a problem solving model that utilizes comprehensive procedures of scanning, analyzing, responding, and assessing. Specifically, once a particular problem is identified, an analysis is performed, a course of action is taken, and the results are assessed to determine if the desired results were attained.
The South District Team prioritizes forming and maintaining community partnerships  in South Oxnard.  Proactive outreach efforts are made to develop partnerships with various clergy, businesses, public entities, community councils, neighborhood watch groups, schools, property owners, and property managers. 
The South District team prioritizes attending neighborhood council meetings. At each meeting, district officers present a summary of monthly crime statistics of the respective neighborhood, prioritize engaging in positive interactions with the residents, and take note of any of their concerns.  
The South District Team has two overarching goals. The first goal is a team commitment to continue to be proactive, with a focus on improving community partnerships. Community engagement is important in building trust and creating solid partnerships, which ideally will lead to improved quality of life and a reduction in crime. The second goal is to continue using a variety of creative problem solving tools/ concepts to reduce criminal activity throughout the district, with a focus on reducing crimes involving gangs, narcotics, violence. and property crimes throughout the district.