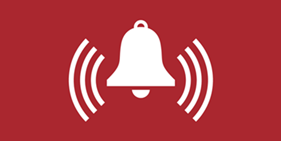 The Oxnard City Council adopted Ordinance 2951, and it went into effect on February 7, 2019. This ordinance governs both security alarms and fire alarms. Click below to download and read the ordinance.
Some of the major points in the security alarm ordinance include:
Alarm users are responsible for having a valid security alarm permit. The annual permit fee is $25.00 (Section 11-70.1 (c)).
Alarm users who do not have a valid permit and have a police response to their site are subject to a fine (Section 11-69(B)(1)(2)).
During the course of a twelve (12) month period, an alarm user shall be entitled to one (1) false alarm response to their site without penalty. Should more than one (1) false alarm response occur during a twelve (12) month period, the alarm user would be fined $145 for the second occurrence, and again for each subsequent occurrence within twelve (12) months of the most recent response to a false alarm (Section 11-72).
Alarm users who have more than five (5) false alarms at their alarm site during the course of one (1) year, or do not pay false alarm fines within a period of sixty (60) days are subject to having their alarm permit suspended or revoked (Section 11-72).
Upon suspension or revocation of an alarm site's permit, the Police Department would cease responses to burglar alarms at the site. However, absent a written request from the alarm user requesting otherwise, the Police Department would continue responses to those alarm types that are designed to safeguard life safety, such as robbery, panic, and duress alarms (Sections 11-72(D)(1) and 11-72(E)(1)).
Police alarm responses to suspended or revoked alarm sites shall be addressed with fines, regardless of alarm call disposition (Sections 11-72(D)(2) and 11-72(E)(2)).
Alarm users are responsible for diligently responding, or sending a representative to an alarm site within forty-five (45) minutes of a request by City staff to deactivate a malfunctioning alarm system, to provide needed access to the alarm site, or to assume responsibility for an alarm site that is unsecured. In the event that the alarm user is unwilling or unable to respond to the alarm site after being notified by City staff, the alarm user may be subject to cost recovery from the City, for incurred personnel and equipment costs (Section 11-64.3(A)(1)).
The City of Oxnard shall not be responsible for securing the premises of unsecured alarm sites, and shall not be required to remain on scene if a responsible party cannot or will not respond (Section 11-64.3(A)(2)).
False alarm response standards shall apply to "monitor it yourself" locations (Section 11-72(A)(B)(E).
A requirement for alarm monitoring businesses to incorporate the practice of enhanced call confirmation prior to requesting a police response to an alarm site. The alarm monitoring business must first attempt to contact a minimum of two (2) pre-designated numbers provided by the alarm user (Section 11-64.1).
Enhanced call confirmation exempts robbery alarms, panic alarms, duress alarms, gun stores, banks, pharmacies, and other specific locations determined by the Police Chief.
More information about alarm related fees and penalties can be found here: Summary of Security Alarm Fines and Fees
Information about the alarm permit process can be found here.