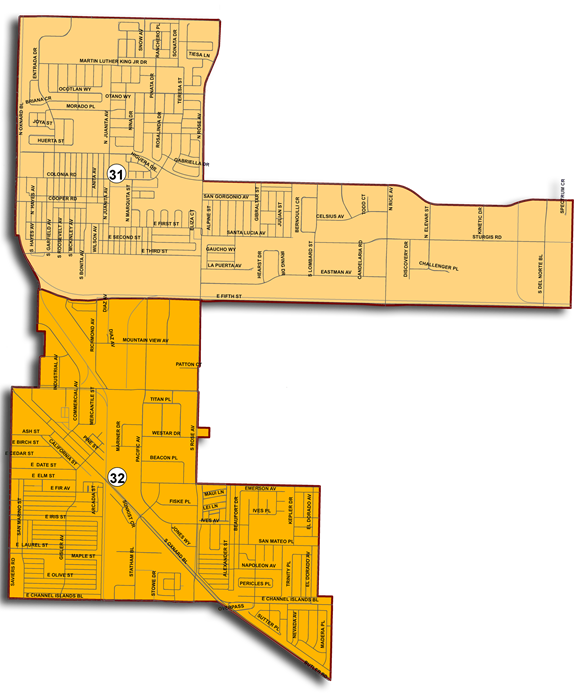 East District Commander East District Sergeant
Commander Eduardo Miranda Sergeant Rocky Marquez
Eduardo.Miranda@oxnardpd.org 805.500.4267
East District Coordinator Community Liaison
Senior Officer Maria Pena Elvira Zavala
805.604.5076 805.905.1627
Maria.Pena@oxnardpd.org Elvira.Zavala@oxnardpd.org
Vencer 31 Coordinador
Funcionario de Martin Perez
805.391.4267
Vencer 32 Coordinador
Officer Jared Schacher
805.906.0962
The East District covers a large geographical area, from Gonzales Road south to Channel Islands Boulevard and Oxnard Boulevard/ Saviers Road to the east end of the city limits. It is further broken down into two beats. North of Fifth Street is Beat 31 and south of Fifth Street is Beat 32.Officer Martin Perez is the Beat Coordinator for Beat 31, Officer Jared Schacher is the Beat Coordinator for Beat 32, and Senior Officer Mike Johnson is the District Coordinator for the East District. The East District is part of the city-wide Neighborhood Policing Team (NPT) and is here to address quality of life problems, crime trends which are difficult for our patrol officers to proactively deal with, and to form and maintain partnerships within our community.
Crime
The City of Oxnard experienced an overall decrease in crime by 7.6%; casi 600 fewer Part I crimes, in comparison to 2015 statistics throughout the city. sin embargo, the East District achieved an overall decrease of 4.6% para 2016. Over the past several years, the East District maintained lower crime rates in comparison to the other districts in the city, so a continued decrease in crime is an impressive accomplishment for this area.
Partnering with the Community
The East District Neighborhood Policing Team is consistently involved in community outreach efforts to strengthen our relationship with the community and provide support for our community and residents. Some of those outreach efforts include:
National Night Out at Del Sol Park
The East District Team helped host the National Night Out event at Del Sol Park. Aproximadamente 100 residents attended the potluck style event where public safety equipment was on display, crime prevention information was handed out, and city officials spoke.
La Colonia Kids Day Fair
Kids Day Fair at Cesar Chavez School was planned and organized by East District Team members and was attended by approximately 1,000 personas. The purpose for the fair is to celebrate the youth and to provide them with opportunities to speak with law enforcement/mounted officers, firefighters, to provide them with healthy food and drinks, and to play fun and safe games.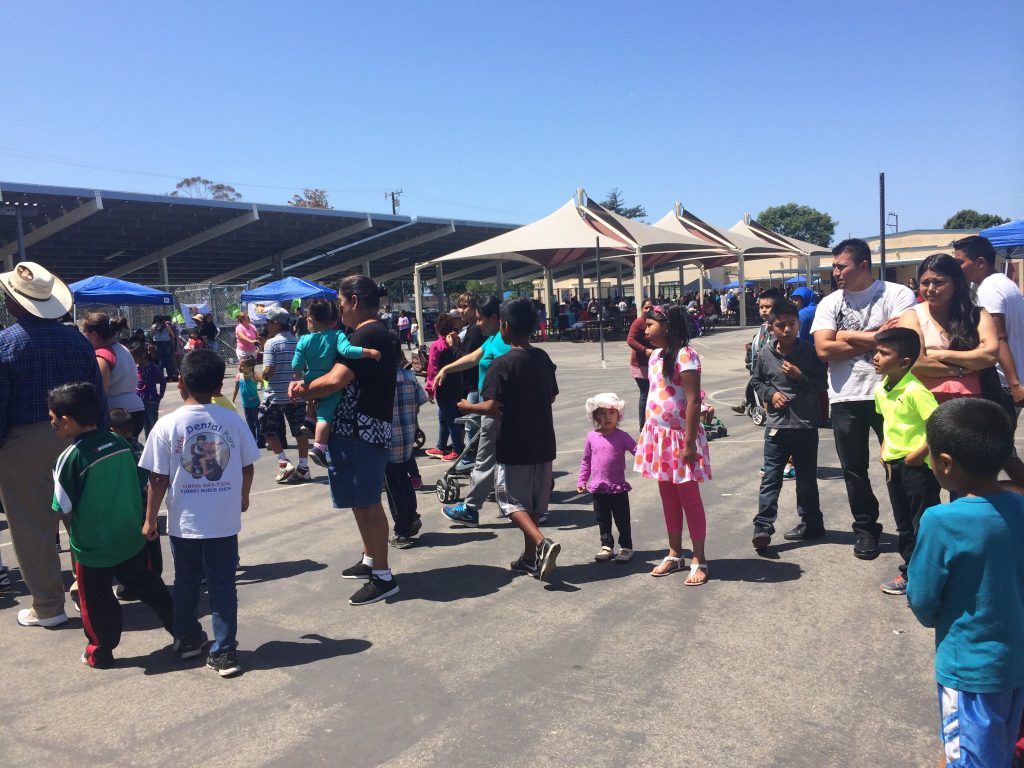 Holiday Manor Tenants Association Holiday Party
The East District Team attended the Holiday Manor tenants Association Holiday Party. This event is held as a potluck, so that residents can interact with each other, apartment management, and East District Team members. Aproximadamente 50 people were in attendance.
Our Lady of Guadalupe Processions
Oxnard Police Department collaborated with Our Lady of Guadalupe for the Virgen de Guadalupe Processions. The processions took place in the month of December, during evening hours. The police department provided traffic control for the processions as they traveled from the 700 block of north Juanita Avenue to the church's parking lot on the 500 block of orth Juanita Avenue. Each night the processions included Danzantes Aztecas, a prayer, and hundreds of members from the community. Traffic flowed with minimal interruption; there were no collisions, and no parking citations.
Rose Park Neighborhood Council Christmas Party
The East District Team attended the Rose Park Neighborhood Council meeting and provided Christmas gifts to approximately 50 niños. The meeting is open to the public and is held as a potluck so all members of the community can meet the officers who patrol the district. There were approximately one hundred twenty people in attendance. Oxnard Police Department Explorers played an integral part in the event, volunteering to serve food and hand out gifts.
Oxnard Community Job and Resource Fair
The East District Team helped develop and host the first annual job and resource fair at Del Sol Park. Aproximadamente 200 residents attended the event which featured 20 businesses and government agencies listed below:
Ventura County Behavioral Health

Interfaz

Vista Real Public Charter High School

Oxnard Rec

. Departamento (

Office of Youth Safety

)

Oxnard PD Traffic Unit

(

Motor

/

TSA

)

Oxnard PD MCP

Oxnard Rec

.

Department PAL

(

Jolly Jump/train

)

Ana Carrillo's Youth Art

El Concilio Family Services

Saint John's Mobile Health Center

Oxnard Housing

Ventura County Community Development Corporation

Oxnard College Automotive Technology Program

Child Development Center

Oxnard Refuse Department

Cal Fresh

Center for Employment Training

El Centrito Family Learning Center

Women's Economic Ventures

(

WEV

)

Ventura County Credit Union

Oxnard Adult Education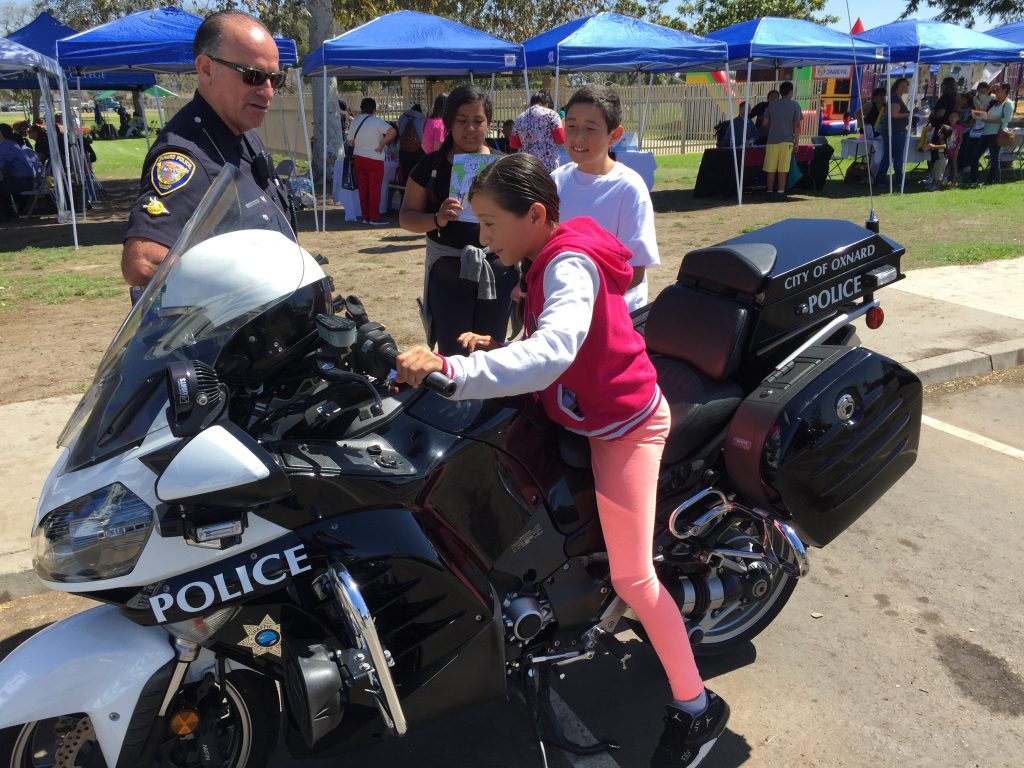 Cal-Gisler Community Check-In
The East District Team designed and hosted the first Oxnard Police Department Community Check-in, following a tragic traffic collision involving a drunk driver who drove into a residence, critically injuring two children. The check-in event featured multiple units from the Oxnard Police Department, as well as other public agencies including the Oxnard Fire Department, the Oxnard Unified School District, the Ventura County Medical Center, and Ventura County CISM. The event was attended by nearly one hundred residents who were able to voice their concerns about traffic and other safety issues in their neighborhood, as well as provide support for the family of the victims.
Goals For 2017
The number one goal for the East District in 2017 is to continue to suppress crime and improve the overall quality of life for the residents in the East District. en adición, the East District Neighborhood Policing Team will continue to respond to the concerns of our residents and address the issues by strengthening the partnerships we have with our community to work together to develop long term solutions.