Two days. Two accidents. Twenty-one hours apart. In one crash, a two year-old Oxnard girl lives through a collision that kills both of her parents. In the other, a two year-old boy dies in the same crash that causes only minor injuries to his mother and 4 year-old cousin.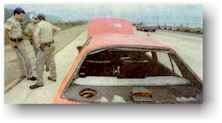 Why? Because one was in a child seat and the other was not.
California Highway Patrol officers investigate a crash that claims the life of an Oxnard two year-old. The boy was not secured in a child restraint seat. Note the relatively minor damage to the car.
Photo by Greg A. Cooper Ventura County Star
Oxnard Boy, 2, Dies in Freeway Crash
By HOLLY J. WOLCOTT, Special to The Times
A 2-year-old Oxnard boy died Friday after being ejected out the window of a car driven by his pregnant mother and carrying his 4-year-old cousin.
Isaiah Rios was pronounced dead at 2:04 p.m. at the Ventura County Medical Center, where he was airlifted after the 1:15 p.m. crash on the Ventura Freeway between Seacliff and La Conchita.
Initial investigation found that Isaiah was not riding in a safety seat, as is required by law for any child under age 4, CHP Officer Dave Cockrill said.
Copyright Los Angeles Times
Couple Killed, Child Injured as Truck Hits Car
By HOLLY J. WOLCOTT, Special to The Times
An Oxnard couple were killed and their 2-year-old daughter seriously injured when the family's car was broadsided Saturday by a flatbed tractor-trailer loaded with boxes of celery, authorities said.
Carlos Mata Orozco, 32, and his wife, Maria Elena, 25, died at the scene of the 11:51 a.m. crash at Rice Avenue and Camino del Sol in east Oxnard, said Oxnard Police Officer Joe Kaniewski.
The couple's daughter, Melissa Sanchez Orozco, was being treated for a fractured skull and ruptured liver at St. John's Regional Medical Center.
"She took the full impact of the crash, but she survived because she was in a child safety seat," Kaniewski said.
Copyright Los Angeles Times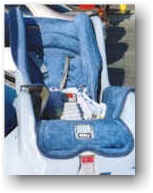 This is the child seat that saved the life of little Melissa Sanchez Orozco. Do you always make sure that your child is seatbelted? If your child is under the age of 4 years and / or weighs less than 40 pounds, do you make sure they are securely fastened in their approved child restraint seat?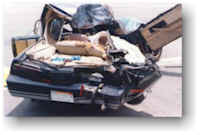 The damage to this car was not made by firefighters during their extrication effort. It was the result of the crash impact with the celery truck. Even with this devastating damage to the vehicle, the two year-old girl riding in a car seat survived the accident.
RELATED LINKS
Child Seats: National Highway Traffic Safety Administration
Safety Belt Safe, U.S.A.
NHTSA's Safety City for Kids