VIPS Unit Overview
The Volunteer in Police Services (VIPS) Unit was created in December of 2008 to allow community members the opportunity to serve and give back to their community. The VIPS members serve in a non-hazardous and non-enforcement capacity while providing valuable assistance and support to the police department and the community.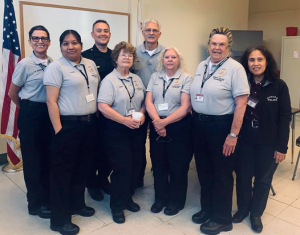 VIP members at an At-Risk/Dependant registration event
Essential Functions and Responsibilities
VIPS members attend monthly meetings. During these meetings, the VIPS receive training on a wide variety of law enforcement related tasks and functions. The VIPS also review and plan for upcoming police department or city events. The VIPS routinely assist in the following events:
Traffic (traffic control, road closures, parades, and special events)
DUI/Driver's license checkpoints
Assist Beat Coordinators when needed
Crime prevention and community outreach efforts
Administrative functions (phone calls, filing, data entry, etc.)
Community patrols
Crime Free Housing management (property inspections and statistical reporting)
Provide bilingual Spanish translation services
Bureau of Investigation files
Detective bureau assistance (assist with fraud evidence, lab reports, credit card skimming and elder abuse prevention)
Assist with missing persons investigations and searches
At risk individuals (manage the critical missing person database using digital registration forms, photographs and provide registrants with ID bracelets for quick identification by field officers)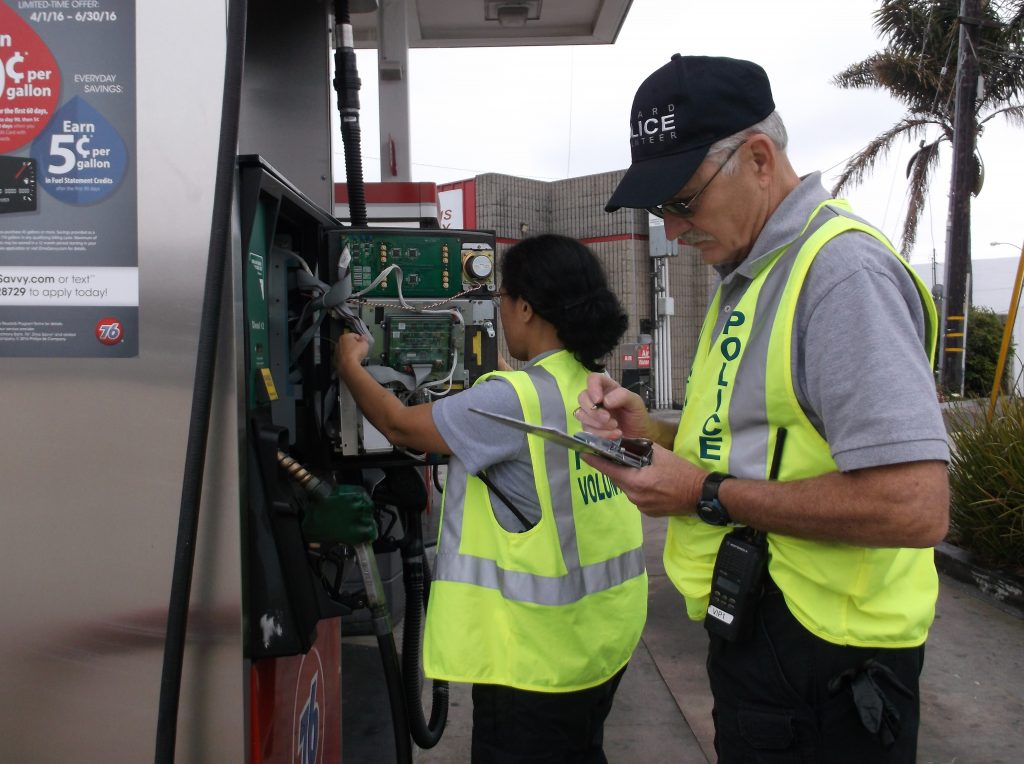 VIPS members conducting a credit card skimmer check at a gas pump
Resources Allocated and Budget
Allocated Staffing:
One commander, one sergeant, one sworn officer, and 25 civilian staff. However, we currently have ten members in the VIPS Unit.
Allocated Budget:  None. The VIPS Unit operates within existing departmental budgets for training and equipment. The unit has received grant funding in the past, and occasionally receives limited funding for assisting at department events while representing the Oxnard Police Department. The VIPS program currently has a bank account with the Oxnard branch of UNIFY Financial Credit Union.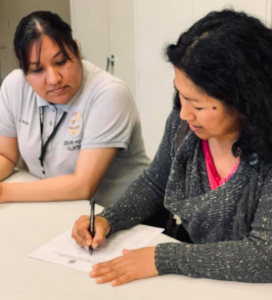 VIPS member assisting a community member at an At-Risk registration event
Statistics and Accomplishments
From the beginning of the Oxnard Police Department VIPS program, volunteers have provided nearly 16,000 hours of volunteer time to the community and service to the police department.  From January to December 2019, the VIPS gave over 1,700 hours of volunteer time to the community with an estimated economic value of over $53,000 (based on the 2018 national value of volunteer time of $29.95 according to the Independent Sector, a coalition of charities, foundations, corporations and individuals that publish research to the non-profit sector.)
In 2019, volunteers continued a successful crime prevention project by frequent visiting to gas stations, within the City of Oxnard, to maintain the police department's gas card skimmer program. This effort is to reduce the frequency of fraudulent credit card activity at the gas pumps, which is a growing concern across Ventura County. The VIPS will continue this project in 2020.
In late 2017, the VIPS program started a new endeavor with fraud detectives to address the trend of elder scams. This project entails volunteers visiting elders who were victimized and to take measures to educate and prevent them from being future victims. As an added step in this effort, volunteers file reports with the Federal Trade Commission (FTC) and the Federal Bureau of Investigation (FBI) as appropriate. Unfortunately, criminals continue to prey and victimize the elderly in our community. The volunteers are dedicated and focused on warning and educating the elderly. In 2019, VIPS members worked closely with Detective Escalante on elder scam prevention and victim advocacy. This effort will continue in 2020.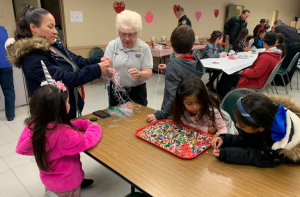 VIPS member at a Special Populations Valentine's Day event
Goals and Commitments
Our primary 2020 goal  is to increase the VIPS Unit by adding new members to the team. Our additional goals for 2020 include:
Identify additional areas in the Department that can benifit from the use of police volunteers.
Continue to update and add to the "At Risk" registration of dependent persons.
Assist ISB to disseminate crime prevention literature.
Participate and promote community engagement and crime prevention efforts.
Continue to participate in DUI checkpoints, the Strawberry Festival, Dallas Cowboys training camp, Christmas Tree Lane, and other department and city-sponsored events.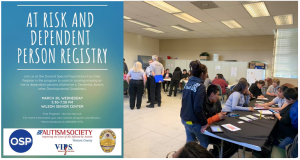 Conclusion
The VIPS Unit and its members have proven to be an essential asset to the Oxnard Police Department. The VIPS members provide valuable services to the department and the citizens of Oxnard, which coincides with the Core Values of the department by providing exceptional service to the City of Oxnard.